6.7 Update: Krinklemas

We have made some changes to the UI around Troop upgrades. These changes are intended to make Troop Upgrades easier for new players, and faster for existing players, and also allow us to add new orb types.
The Troop Card popup in the Troop Collection Menu has new buttons:

Arrow Button – This is the Recruit button for a team (Controller still uses same shortcut)
Level Up Button – This takes players to the new Troop Level Up Menu
More Upgrades Button – This is where players can do all other Troop Upgrades, as well as accessing Screenshot mode.

Troop Levelling is now found in its own menu that players can access from the Troop Card Popup.
The Troop Level menu will only have 1 means to level a troop, by choosing the level. The menu will default to the highest level the player can purchase (based on Souls amount and/or Rarity).

(Adventurer's Path Troop Level restrictions will also affect Max level possible).

Players can still see how the Troop's Skills change for each level in this menu.
In the More Upgrades menu, players will start on the Troop Overview Menu. This will present all Troop information (similar to the screenshot mode), so they are able to clearly view all information for their troop.

Players can use the Camera button in the top left corner to switch it into Screenshot mode.

The Gear Button on the bottom Left side will slide out the Screenshot options (just like in the current version) so players wishing to set up a screenshot for the Troop may still do so.
The Button underneath that in the bottom left side is the Skills button which will display the Troop's Skills and a breakdown of how the Skills are calculated (e.g. how much Attack comes from Kingdoms etc.).
The Traits tab menu behaves exactly as the Traits menu currently.
The Ascension tab menu also behaves the same, however we have moved the Base Rarity and number of copies a player owns to the left hand side, and added a button for ascending all Troops which will be clearer for players to understand.
The Elite Level tab menu behaves exactly as the Elite Level menu currently.
The Orbs tab menu behaves exactly as the Orbs menu currently. Players will also be able to use their Orbs of Glory from here (more on those below).
The Disenchant tab menu behaves exactly as the Disenchant menu currently.
We have updated the tutorials for Troop Leveling, Troop Traiting, and Troop Ascension to fit these new menu changes.
To help reduce time higher level spend upgrading their troops, we have added a button on the Overview menu for Players level 101+, that will allow players to Level, Trait and Ascend the Troop they are looking at, all at once using any available resources the Player has.

We have made some improvements to the Holiday Event.
We have changed it so the Holiday Event Shop will be available for 1 week after the event ends, so players are able to spend any left over event currency. (This allows players who were in battles when the event ended to still spend their currency).
We have introduced Golden Holiday Battle Energy that players can use to fight battles instead of their normal Holiday Battle Energy.
Golden Holiday battles will give bonus event currency for Winning, as well as a small amount of event currency if they lose.
Bonus event currency is a flat amount (so it will be the same regardless of a player's Difficulty in the Event).
If Players have any remaining Golden Holiday Battles when the event ends they will be able to exchange it in the Event Shop for Gem Keys or Event Currency (during that extra week).
Players can purchase Golden Holiday Battle energy from the Battle menu.
Players will get bonus rewards after purchasing Golden Holiday Battles 3 or 5 times (this only happens once per event – once at 3 purchases, and once again at 5).
We have added new things to the Event Shop that will appear when in the Event Shop once the previous offer has been fully purchased:

Golden Pet: This offer will appear after all the stock for the Pet Offer has been purchased.
White Pet Food Offer: This offer will appear after all the stock for the Pet Food Offer has been purchased.
Legendary Medal Offer: This offer will appear after all the stock for the TraitstoneOffer has been purchased.
Major Orb of Chaos Offer: This offer will appear after all the stock for the Orb of Power Offer has been purchased.

These new offers can be purchased repeatedly.


We have added several new orbs to the game that players will be able to collect and use.
Orbs of Forging: These orbs can be used to temper Weapons that use Forge Scrolls.
Orbs of Ingots: These orbs can be used to temper Weapons that use Ingots.
Orbs of Minions: These orbs can be used to increase the Max Level of a Pet.
Orbs of Glory: These orbs can be used to earn Elite Levels on a Troop.
All Orbs (except for Orbs of Glory) have a regular version (whose effect will trigger for 1 level) and a Major (whose effect will trigger for all levels). This matches other Orbs currently (e.g. Orb of Growth = +1 Level and Major Orb of Growth = Max Level, etc.).

Orbs of Glory are unique as they can only be used on their matching Elite Level.
Lesser Orb of Glory: Bronze Elite Level
Orb of Glory: Silver Elite Level
Major Orb of Glory: Gold Elite Level
The Lesser Orb of Glory can only be found in Chaos Orbs, while Orb and Major Orbs of Glory can be earned from Major Chaos Orbs. Orbs of Minions and Orbs of Glory are much rarer to find from Chaos Orbs than other orbs (almost as rare as an Orb of Power). The full Chaos Orb drop rates can be found here.

The new orbs can be used from the following places:
Orbs of Forging: Tempering Menu for Forge Scroll Weapons
Orbs of Ingots: Tempering Menu for Ingot Weapons
Orbs of Minions: Max Level for a Pet
Orbs of Glory: The Orb Tab Menu in the "Troops – More Options" menu.

We have added a new spell mechanic – Choice. Choice allows players to pick between 2 possible spell effects to cast.
Players will get to encounter Choice when it is released as part of the next new Kingdom, early next year.

We have added 2 new Warbands (Mech Masters + Hunting Pack) into the game. They will be available with Weekly reset.
Mech Masters will replace Dark Assassin
Hunting Pack will replace Poison Fangs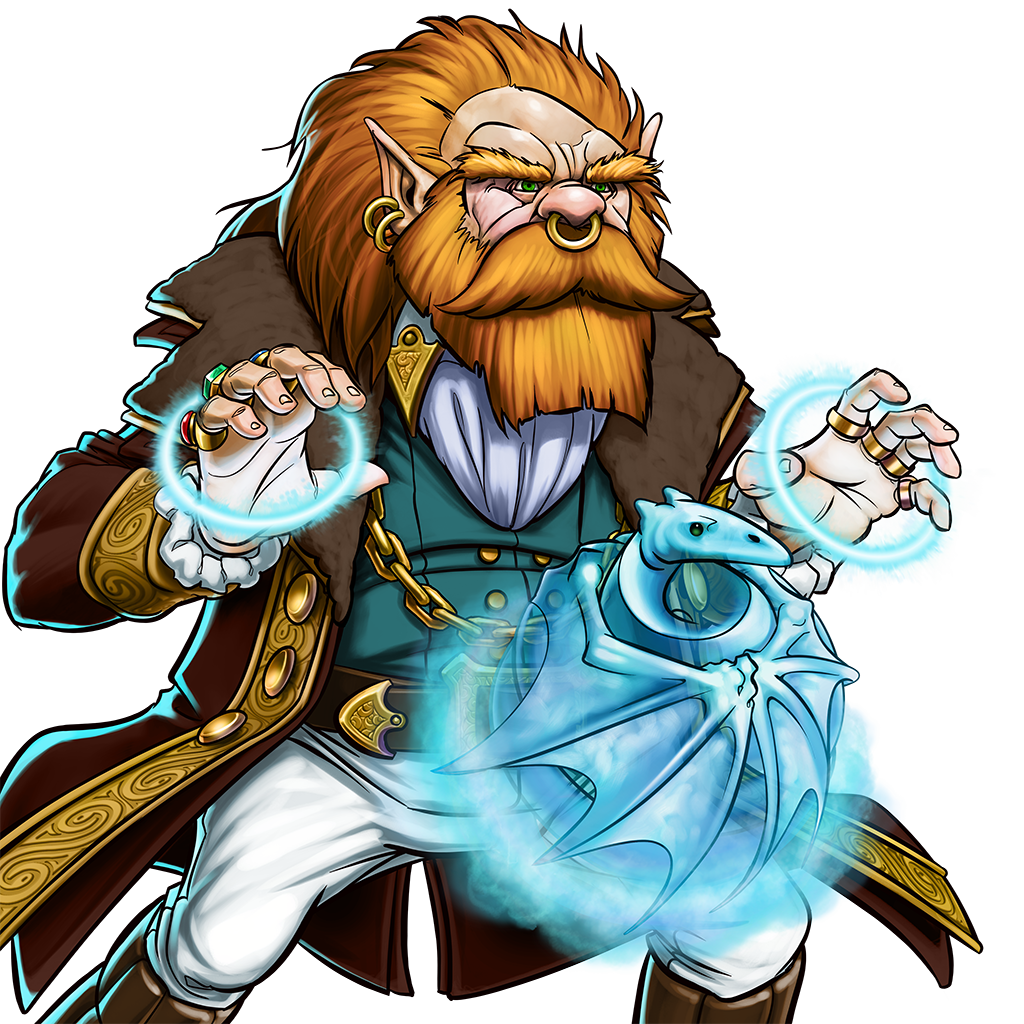 We have added a new Gnome, the Dragonite Gnome. He will have a similar chance to appear in regular and PvP battles as the Cursed Gnome.
We have also introduced Dragonite Gnome Bait that players can use to encounter a Dragonite Gnome in their next battle.
Dragonite Gnome Bait will be used if no Pet Gnome Bait or Cursed Gnome Bait is available.

We have 2 new Achievements for this update:
Dragonflight: Match 100 Dragon Gems
Gnomeo & Dragonet: Defeat 10 Dragonite Gnomes

We have added a new Heroic Gem for a future Campaign.
We have added popups in game to promote when a event is starting, ending soon, or to promote while an event is running for the following events:

Campaigns
Kingdom Pass
Legends Reborn
Holiday Events

We have changed the Kingdom Pass, Legend Reborn and Holiday Events to unlock for players at level 10, as those events were causing some confusion to newer players.
We have made collecting Keys in the Adventurer's Path easy to do, so if a player accidentally taps the Adventure button instead of the Keys it will collect the Keys instead. Players can use the Adventure button when no Keys need to be collected to continue playing quests.

We have fixed an issue where some new players were able to access quests that are no longer in use (Stonehammer's Vault).
We have fixed an issue where the old event medal converting to Medal of Seasons mail would sometimes also target any new medals for the current event.
We have fixed an issue with Legends Reborn in Broken Spire that affected starting boards for other game modes.
We have fixed an issue where the Treasure Hunt board would have invisible Gems after playing Legends Reborn.
We have fixed autoplay from appearing in Treasure Hunts.
We have made several fixes to text or translations within the game.
We have fixed an assortment of smaller issues.
The 6.7 update will be available to all platforms except Nintendo Switch, who will receive it at a later date.