Magma Depths
Hello everyone, it's an exciting week with E3 and news of Gems of War coming to the PlayStation 4 and Xbox One. Along with that, it's PVP reset time and a new troop from Broken Spire will be joining us!
New Troop: Terraxis
This stone-textured Daemon from the depths features a single disembodied eye, and can use it's Petrify ability to deliver damage to enemies, turning water to stone in the process. This means when it strays outside its native environment of Broken Spire, it's pretty good at taking beautiful nature and turning it into an ugly rocky home.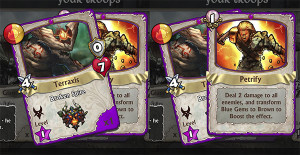 Returning Weapon: Skullblade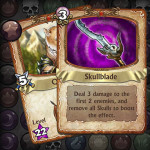 Acting in a new combo with Terraxis, Skullblade feeds on the fresh supply on Brown stone Mana. Its effect is boosted by skulls on the board, so it's great for delivering damage and clearing out possible dangers that might be closing in on you.
PVP Rewards Reminder
With the PVP reset comes payouts in Souls for your efforts on the battlefield against other players. Remember, you'll have until the next event to climb as high as you can and earn yourself some souls.Here's what you can earn at each rank:
* Rank 1: 300 Souls
* Rank 2: 150 Souls
* Rank 3: 80 Souls
* Rank 4: 60 Souls
* Rank 5: 50 Souls
* Rank 6: 40 Souls
* Rank 7: 35 Souls
* Rank 8: 30 Souls
* Rank 9: 25 Souls
* Rank 10: 20 Souls
* Rank 11: 16 Souls
* Rank 12: 12 Souls
* Rank 13: 8 Souls
* Rank 14: 4 Souls
* Rank 15: 0 Souls, and a free forum account. Join the forums today!!