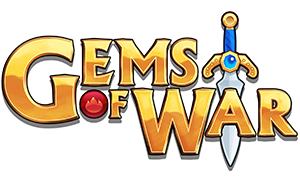 New Event: Death Walks the Land
Today we journey to the wastelands of Khetar, where Aziris the Liche Lord can be found, along with the famed Skullblade.
Nobody is entirely sure what Aziris looks like beneath that strange helm, nor has anybody ever gotten close enough to look inside and tell the tale. One thing on which everybody agrees though, is that it takes some serious swag to wear headgear like that, whether you're alive OR dead!
As usual, it's also time for our fortnightly PvP reset.
EVENT: Death Walks the Land
Aziris is the seventh troop for Khetar, and he has an unusual skill for an Epic card; his Finger of Death spell may only create one Skull Gem, BUT you can create it wherever you like, AND it is very cheap to cast! The Skullblade, on the other hand, removes Skulls from the board, channelling their destructive energy against your foes.
* Skullblade (60 Glory): A new epic weapon. Remove Skulls and deal damage!
* Aziris (120 Glory): A new epic troop – can cause chaos with one well placed Finger of Death.
* 40 Souls (10 Glory): Souls? Om nom nom (as the residents of Khetar often say).
PvP Reset & Soul Rewards
Don't forget, your PvP ranking is reset back to 15 today, and you are given some Souls. The number of Souls depends on your PvP Rank, and is listed below
* Rank 1: 200 Souls
* Rank 2: 100 Souls
* Rank 3: 80 Souls
* Rank 4: 60 Souls
* Rank 5: 50 Souls
* Rank 6: 40 Souls
* Rank 7: 35 Souls
* Rank 8: 30 Souls
* Rank 9: 25 Souls
* Rank 10: 20 Souls
* Rank 11: 16 Souls
* Rank 12: 12 Souls
* Rank 13: 8 Souls
* Rank 14: 4 Souls
* Rank 15: No Souls for You!
Please note these souls are NOT boosted by Armor (the same as all Daily Reward Gold is not boosted by Armor). Only rewards that are an immediate result of a battle gain the Armor boosts.
10 Comments
ON "

New Event: Death Walks the Land

"
RECENT TWEETS
"Auriao is really too cute for words, so make sure to rescue one over the next 24 hours on Nintendo Switch! https://t.co/tY1eKe5mRH"
"This aint Zelda, but we are all about shiny things in jars. Make sure to rescue the Bright Beetle over the next 24… https://t.co/X8a1PQiK4b"