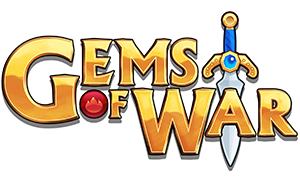 Spells and Spiders

It's Monday, aka PVP reset day! It's also a public holiday for us in Australia, as we pledge our eternal loyalty to the Queen of Zhul'Kari and her iron fist. Why would we pledge loyalty to a fictional character from a video game? It's complicated. Last time we messed with her, Full's car got broken into and had his 2Pac CDs were stolen*. We're not repeating that mistake. LONG LIVE THE QUEEN OF ZHUL'KARI!
New Weapon: Soultrap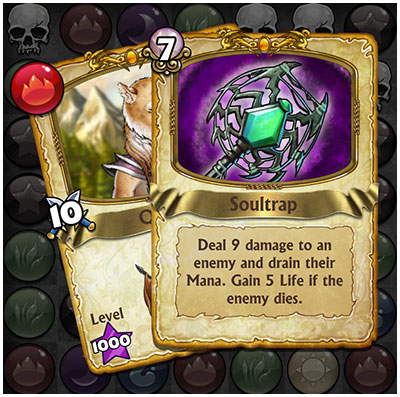 The ornate Soultrap from the Dark Elven weapon-smiths of Zhul'Kari carries a bit of a one-two punch. While it delivers a solid chunk of damage, it'll also drain the targeted troop's Mana. Best of all, if you happen to land a killing blow, your hero will gain 5 extra Life!
Returning Weapon: Spider's Kiss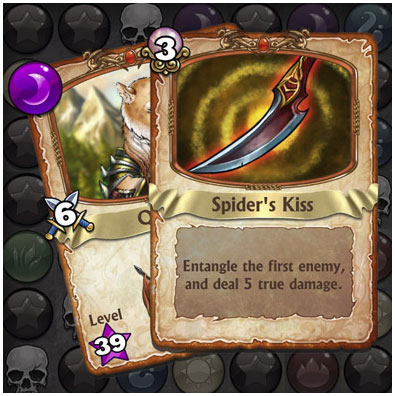 We've all heard the old Dark Elf saying 'If you wake up and find that I've tied you a tree, you can expect me to eviscerate you and steal your organs shortly' and clearly, that phrase inspired the creator of the Spider's Kiss. Both Entangling a troop and delivering True Damage, Spider's Kiss is a great tool for knocking down a row of enemies one by one.
PVP Rewards Reminder
With the PVP reset comes payouts in Souls for your efforts on the battlefield against other players. Remember, you'll have until the next event to climb as high as you can and earn yourself some souls.Here's what you can earn at each rank:
* Rank 1: 300 Souls
* Rank 2: 150 Souls
* Rank 3: 80 Souls
* Rank 4: 60 Souls
* Rank 5: 50 Souls
* Rank 6: 40 Souls
* Rank 7: 35 Souls
* Rank 8: 30 Souls
* Rank 9: 25 Souls
* Rank 10: 20 Souls
* Rank 11: 16 Souls
* Rank 12: 12 Souls
* Rank 13: 8 Souls
* Rank 14: 4 Souls
* Rank 15: 0 Souls, and all the Unicorns your mind can bring to life!
*No really, this actually happened. If you happen to find some really scratched 2Pac CDs in your local pawn shop, please send them to:
Infinity Plus Two
76 Desert Road
Beyond The Thunderdome
Australia
South Side of Earth, Below China and a bit to the East
If you hit New Zealand you have gone too far
3 Comments
ON "

Spells and Spiders

"
RECENT TWEETS
"Auriao is really too cute for words, so make sure to rescue one over the next 24 hours on Nintendo Switch! https://t.co/tY1eKe5mRH"
"This aint Zelda, but we are all about shiny things in jars. Make sure to rescue the Bright Beetle over the next 24… https://t.co/X8a1PQiK4b"