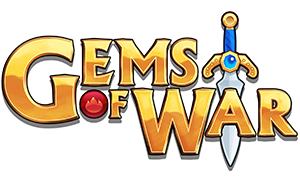 Patch Preview: 1.0.6

We're really excited for the 1.0.6 Update to Gems of War. Sadly it's taking a little longer than expected to squeeze all the new stuff in, but we think it's worth the wait.
Finally, you'll be able to play Gems of War on Android, AND in French, Italian, German, and Spanish! But we know what many of you are interested in… it's the new features and fixes for the game. So we've put together a small preview to whet your appetite.
This doesn't mean the patch will be out in the next few days! We still have to put a few final touches in place and then wait for it to pass through Apple and Google certification, but we promise you that we're working on it as fast as our team can go!
New Kingdom: Maugrim Woods
Maugrim Woods is home to the Wargare Tribes – those cool-looking wolf-people you can choose for your hero. Like all Kingdoms, Maugrim Woods comes with new quests, new challenges, and an assortment of new troops. We're going to save the exact details of all those guys for a future preview, but suffice it to say that they are themed around hunting and druidic magic, with a brand new status effect to try out called "Hunter's Mark".
Mini Game: Treasure Hunt
Remember Tyri? That crazy Half-Elven girl searching for treasure in Zhul'Kari? Well, she's back with a new mini-game, called Treasure Hunt.
Treasure Hunt is really simple. If you have a Treasure Map (obtained from cascading gems, guild tasks, or purchased with Glory), you can play! Match treasures to make BETTER treasures. You have 15 turns, after which the game ends, and all the treasure from the various chests is awarded to you! Don't worry – it won't be over quickly for good players who can think ahead; matching 4-of-a-kind doesn't use up a turn, and matching 5-of-a-kind gives you an EXTRA turn. If you're good, and manage to create the very best treasures on the board, you can even win some Magic Keys!
Troop UI Improvements
We know you've asked for a lot of UI improvements, and we're pleased to bring you 4 of the most-requested:
* Mana Requirements displayed on troops and weapons
* Actual mana amounts displayed on troops in battle
* Boost Ratios for boosted spells displayed in-game
* Lockable disenchant limits on each troop
Here's a look at the Troops Menu:
And here's a look at the Battle Menu with mana totals. Detailed Info Mode is turned OFF by default, but can be activated from the Settings Menu on the World Map.
Troop Types
This is a small thing that will play a bigger part in the game as time goes by. Troops can now have a TYPE. Initially this is limited to:
* Dragon
* Daemon
* Undead
* Beast
…but we'll be adding more in the future. Some spells and weapons will have special effects when used on certain troop types.
Multi-Color Weapons
We've added some new Legendary weapons to the game. These ones have dual (or more!) colors. You require a spell mastery in ALL relevenat colors to obtain them!
More Special Offers
The Starter Packs have been really popular. We're glad you've enjoyed them. So we've added some extra packs chock full of valuable items for higher-level players.
Players of level 20 or higher can purchase the Intermediate Offer Pack once.
Players of level 50 or higher can purchase the Advanced Offer Pack, which will rotate from week to week and be themed around the weekly event Kingdom.
We'll have more news about what's in the packs a little closer to release.
Some General Balance Issues
These are all quality of life changes based around some of the design elements in the game that have proved to be both an annoyance, and have caused balance difficulties:
* Gems from Exploders now only give a percentage of the mana back to power up their troops. Currently we have this set at 70% and it feels much better. That number may still change as we balance before release.
* Status effects (Silence and Entangle) now have a 10% CUMULATIVE chance to wear off per turn. That's 0% the turn they are cast, then 10%, 20%, 30%, etc… Mostly they are gone in 4 turns now. We haven't seen any stick around longer than 7 turns, though theoretically 10 turns IS possible.
* We've stopped some of the streaks of gems falling in. This is not a change we make lightly, but it does make the game feel less punishing sometimes.
Bug Fixes!
We know… there have been some annoying bugs, but we've been hard at work squashing all the ones we could find, including:
* The multi-kill bug when matching LARGE number of skulls
* The extra turn glitches that could trigger for various reasons
* The interaction of attack buffs and entangled troops (attack buffs will now cleanse the entangle)
* Vanishing spell icons in battle (caused by powering up and hitting with skulls simultaneously)
48 Comments
ON "

Patch Preview: 1.0.6

"
RECENT TWEETS
"Our December mythic, the Worldbreaker, has awoken from slumber early. They will be prowling into the game next week… https://t.co/DPmlF6LlAe"