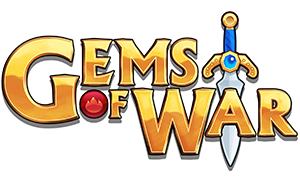 Daughters of Orion
Here comes trouble, and make it double.
New Epic: Anthea

The two daughters of Orion are as different as night and day.
Anthea is the younger daughter – a Centaur who loves nature, in particular the flowers from which she takes her name. She is often seen by the tribes of the Divinion Fields running wild and free, enjoying the smell of the trees, and the feel of the long grass as it brushes against her fetlocks. Upon occasion, in Spring, she will visit small tribal villages, bearing herbal blooms and medicinal plants, which she gives away freely to all in need.
New Legendary: Artema

Artema on the other hand, the older daughter, loves war. Seldom seen without a lance in her hands, the local tribes shy away from her, believing it is bad luck if she crosses their path. Unlike Anthea, when Artema enters your village, it is to recruit warriors, and they are seldom seen again!
Artema will be available only in Event Chests this week, and will be added to Gem, Glory, Guild, and VIP chests in 4 weeks' time.
Please note this Event only applies to Steam, iOS and Android versions of the game.

0 Comments
ON "

Daughters of Orion

"
RECENT TWEETS
"It's weekly mini competition time! If you could buy Gems of War merch, what would it be and why? Prizes for good answers as always. :)"
"Hello players! We go live on #Twitch in 1 hour with Salty (@ellalowgren) and Steve (@sfawkner)! Please join us here… https://t.co/YHQCCCjiGZ"
"It's time for the second round of our Design-a-Troop competition! Our troop will be a Mech/Merfolk from Blackhawk.… https://t.co/12frPFr2jA"
"Please refrain from making dirty jokes, we believe in your self-control. Meet King Silenus this week on console!… https://t.co/9Kugow5iLY"
"Pray your courage doesn't desert you this week as you journey to the past on PC/Mobile! https://t.co/bO0A71waoR https://t.co/T0648srTYc"