4.3.5 Update
Puzzle Game Info Menu
* When Players open the Options menu in a puzzle game, they will see the new Battle Info menu
* In Puzzle Battles, this menu displays the following battle information for both the player and opponent:
o Time spent in the battle
o Mana Surge Chances
o Resources Earned + Max amount
o Deaths Earned + Max amount
* In Treasure Hunt, this menu displays:
o Turns
o Moves
o Traitstones gained
* Settings can still be accessed from this new menu on the button up in the top left

Settings Menu Rework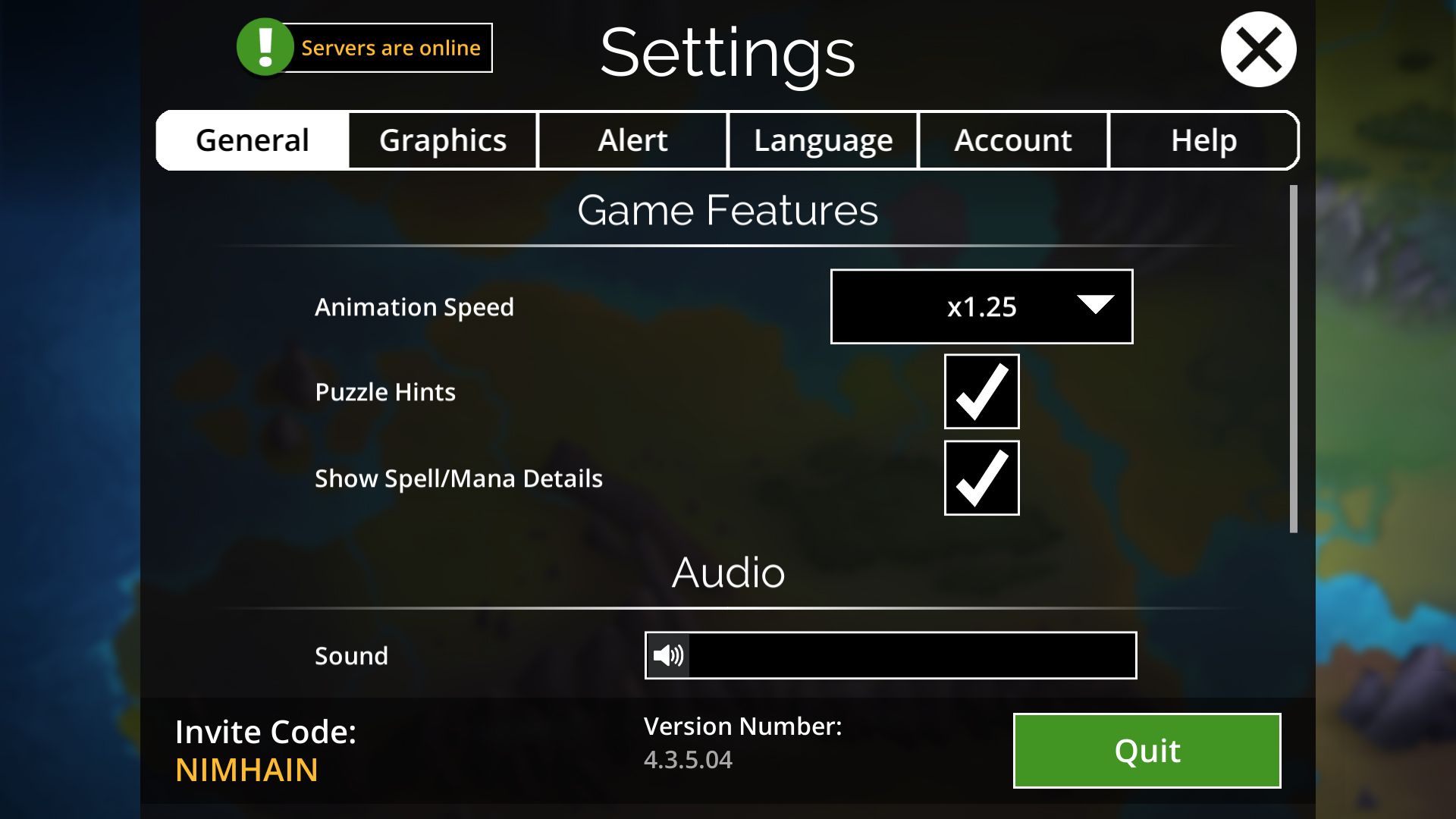 * The UI has been changed to match the rest of the game, and the layout has been improved making the settings easier to navigate
* All menus are now scrollable
* The most commonly-used settings have been relocated to the top of General tab so players don't have to jump around the settings menu to adjust them. These options include:
o Animation Speed
o Puzzle Hints
o Show Spell/ Mana Details
* The Alert tab has been redesigned to be easier to understand, meaning that players can choose which area of the game they want to receive notifications for, and then more options will appear allowing them to customize this further. * The Account tab has been redesigned to make it clearer how account linking is set up and how to swap between accounts
* The Links Tab has been renamed Help and designed to provide clearer links to various help and support resources. This includes:
o Help Center – This will open a window to the Game Guides section on the Gems of War Help Center
o Submit a Ticket – This will display a list of support options. Once one is selected, it will open a window allowing players to submit a ticket for the option selected
o Terms of Service – This will open a window to the Terms of Service for Gems of War
o Privacy Policy – This will open a window to the Privacy Policy for Gems of War
o Community Guidelines – This will open the Community Guidelines for Gems of War
o Credits – Same as before!
o Social Links – These smaller buttons will open web pages for the corresponding social services
* Submit a Ticket will auto-fill several fields with some data to help the player and Support team. This includes:
o Email address (if the player has linked their email with account)
o Platform
o Operating System
o Device Model
o Invite Code
o Guild Name
o Hero Level
o VIP Level
* Agent responses to Support tickets sent from the game will still be sent to a player's email (we have no means to contact players about support issues in game). Players may need to create a Zendesk account for submitting a ticket.

Balance Changes
Cthythrzyx
* Spell damage upgraded so both upper and lower ends of the damage range scale from Magic

Ice Troll
* The Spell will now create a mix of Blue and Brown Gems on the board, based on the current number of Blue + Brown Gems

Naga Queen
We made these changes as Naga Queen was very similar to Tai-Pan. They shared Mana Colors and both converted Brown Gems to Red.
* Mana Colors changed from Blue/ Green to Green/ Brown
* Now converts Yellow Gems to Red

Royal Engineer
* Armor buff to Allies now scales off Magic

Tankbot
Tankbot now deals true damage so he continues to have Armor to steal.
* Spell now deals true damage

Wulfgarok
* Legendary Trait, First Wargare, changed to give 2 Attack and Magic to Allied Wargare when matching 4 or more Gems

Kingslayer
* Spell's conditional bonus damage now triggers if the Enemy's Attack is greater, and bonus damage has been increased from 7 to 12


Bug Fixes
* Fixed an issue where the game would crash on startup for iOS 9 devices
* Fixed an issue where the game would get stuck on the initial loading screen on XBox One for some players
* Fixed an issue where number separators were appearing as upside down question marks for French and Russian
* Fixed an issue where the Extra Turn graphic was appearing behind Troops
* Fixed an issue where Pet Rescue Event popups were appearing at incorrect times (like the battle rewards list screen)
* Fixed an issue where MVP troops were gaining the Lucky badge despite not receiving a Death Mark
* Several minor Bug Fixes