Bomb Squad
Gems of War 1.0.7 isn't far off but until then, we have something explosive to keep you busy!
New Weapon: Boom-Boom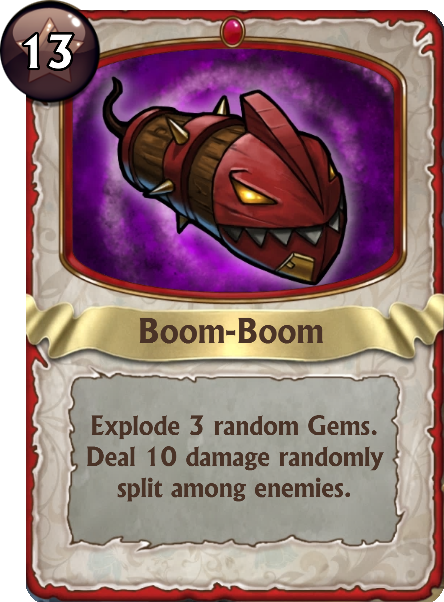 What's better than a Goblin on a Rocket? Ordinarily we'd just say TWO Goblins on a Rocket, but due to industrial action at the Zaejin Experimental Combustion Labs this week, we've had to broaden our scope… And the answer is: Your HERO on a rocket!
For this week only, while the Goblin Workers Union strikes over fair compensation for loss of critical body parts, sneak in to Gems of War and grab your very own Goblin Rocket!
Now in Chests: Green Seer
Unsure which Arena team to bet on this season? Get your own omen spinner from chests now!
Balance Change: Sparkgrinder
Base amount on attack and Armor gain increased from 1 to 3.
Balance Change: Sunweaver
Now give a flat Mana amount instead of mana that scales with Magic.
PVP Rewards Reminder
With the PVP reset comes payouts in Souls for your efforts on the battlefield against other players. Remember, you'll have until the next event to climb as high as you can and earn yourself some souls. Here's what you can earn at each rank:
* Rank 1: 300 Souls
* Rank 2: 150 Souls
* Rank 3: 80 Souls
* Rank 4: 60 Souls
* Rank 5: 50 Souls
* Rank 6: 40 Souls
* Rank 7: 35 Souls
* Rank 8: 30 Souls
* Rank 9: 25 Souls
* Rank 10: 20 Souls
* Rank 11: 16 Souls
* Rank 12: 12 Souls
* Rank 13: 8 Souls
* Rank 14: 4 Souls
* Rank 15: 0 Souls, and the reminder that yes, you get to strap your hero to a rocket this week!
No Leaderboards This Week
There's a lot of big stuff in progress for Gems of War, so we'll be taking a break from leader boards this week. Keep an eye out for them next week!