Carol of the Bells
♫It's the most wonderful time of year, there will be much pillaging! With villages a-glowing when set on fire….♫
New Weapon: Slay Bells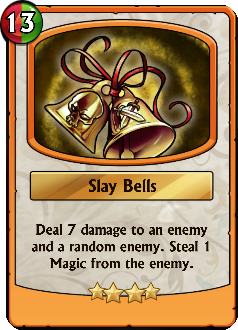 Anyone who has ever given a set of drums to a 3-year-old will understand the destructive potential of musical instruments. Such is the power of the Slay Bells! This year Ragnagord has begun his pilgrimage once more, travelling down from the icy wastes of the north in search of this Legendary Artifact. So if you want to set your ears ringing this Holiday Season, beat him to it, invade your friends with seasonal good cheer, and add these to your hero's armory!
New Bundles
We've got two new bundles this week in different shapes and sizes!
1.0.8 Celebration Pack – As a thanks for your patience with the launch of 1.0.8, we'll be adding this new bundle that contains a set of Keys, Gold, and Souls. It costs 0 Gems (no, that's not a typo!) and can be found in the Specials tab in the Shop!
Special Holiday Glory Bundle – It's been requested in the lead up to the holidays, and now it's here! Get both Silent Night and Ragnagord, along with Gold and Runes, for just 10 Glory. It's available from the Specials tab in the shop.
Both bundles are limited to 1 per player.
Incoming Gem Sale!
We'll be having a Gem Sale starting in the next few days and running across the holiday season. More details will come soon, but we wanted to give you a heads up now.
Balancing and Changes
Prismatic Orb
Mana Cost reduced from 20 to 18
Imperial Jewel
Mana Cost reduced from 22 to 20
Winter Imp
Spell now removes Blue gems from the board to boost its damage.
We also corrected some Trait text.
PVP Rewards Reminder
With the PVP reset comes payouts in Souls for your efforts on the battlefield against other players. Remember, you'll have until the next event to climb as high as you can and earn yourself some souls. Here's what you can earn at each rank:
* Rank 1: 300 Souls, 2000 Gold, 100 Glory, 10 Glory Keys
* Rank 2: 150 Souls, 1500 Gold, 50 Glory, 5 Glory Keys
* Rank 3: 80 Souls, 1000 Gold, 40 Glory
* Rank 4: 60 Souls, 900 Gold, 30 Glory
* Rank 5: 50 Souls, 800 Gold, 20 Glory
* Rank 6: 40 Souls, 700 Gold, 10 Glory
* Rank 7: 35 Souls, 600 Gold, 5 Glory
* Rank 8: 30 Souls, 500 Gold
* Rank 9: 25 Souls, 400 Gold
* Rank 10: 20 Souls, 300 Gold
* Rank 11: 16 Souls, 200 Gold
* Rank 12: 12 Souls, 100 Gold
* Rank 13: 8 Souls, 50 Gold
* Rank 14: 4 Souls, 10 Gold
* Rank 15: 1 Gold