Chaos Reigns
New Weapon: Chaos Blade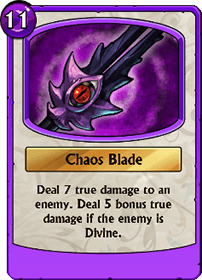 Have you ever turned up to an Arena Battle, and found a huge Sacred Guardian with so much Armor, he was probably immune to most things short of depleted uranium armor piercing shells? Well the Vampire Lords of Ghulvania have too!
So this week, hot from their Dark Forges, deep below the Dark Mountains in the darkest kingdom of all, they have wrought us something truly terrifying (if you're a Divine creature). Behold the Chaos Blade!
Now In Chests: Barbearius
Get back in touch with nature and make new friends, such as Barbearius, the rather large growly bear who just wants a hug.
Balance Changes
Prismatic Orb
*Mana cost increased from 17 to 20
*Gem creation no longer scales off Magic. Now creates 8 Gems.
*Spell now give an Armor Buff, which scales off Magic.
PVP Rewards Reminder
With the PVP reset comes payouts in Souls for your efforts on the battlefield against other players. Remember, you'll have until the next event to climb as high as you can and earn yourself some souls. Here's what you can earn at each rank:
* Rank 1: 300 Souls, 2000 Gold, 100 Glory, 3 Iron Keys
* Rank 2: 150 Souls, 1500 Gold, 50 Glory
* Rank 3: 80 Souls, 1000 Gold, 40 Glory
* Rank 4: 60 Souls, 900 Gold, 30 Glory
* Rank 5: 50 Souls, 800 Gold, 20 Glory
* Rank 6: 40 Souls, 700 Gold, 10 Glory
* Rank 7: 35 Souls, 600 Gold, 5 Glory
* Rank 8: 30 Souls, 500 Gold
* Rank 9: 25 Souls, 400 Gold
* Rank 10: 20 Souls, 300 Gold
* Rank 11: 16 Souls, 200 Gold
* Rank 12: 12 Souls, 100 Gold
* Rank 13: 8 Souls, 50 Gold
* Rank 14: 4 Souls, 10 Gold
* Rank 15: 1 Gold