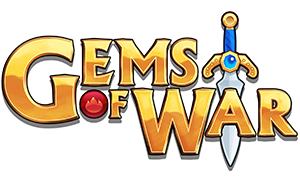 For Mercy's Sake

Show a little mercy in this week's event!
New Troop: Mercy

They say that mercy is the essence of justice, yet if justice is naught BUT mercy, then it it is no justice at all.
With Moloch's influence overthrown in Whitehelm, it is time for its people to rebuild. Justice has been served, and it is now a time for a reflection. As often happens in the Holy Lands of Whitehelm, the will of the people has manifested itself – this time as the archon, Mercy.
Her mission seems to be to heal the wounded, to cleanse their ailments, and to bring light where there was only darkness.
Mercy may be of help to anyone seeking her services, so keep an eye out for her in Krystara this week.
PVP Rewards Reminder
With the PVP reset comes payouts in Souls for your efforts on the battlefield against other players. Remember, you'll have until the next event to climb as high as you can and earn yourself some souls. Here's what you can earn at each rank:
* Rank 1: 300 Souls, 2000 Gold, 100 Glory, 10 Glory Keys
* Rank 2: 150 Souls, 1500 Gold, 50 Glory, 5 Glory Keys
* Rank 3: 80 Souls, 1000 Gold, 40 Glory
* Rank 4: 60 Souls, 900 Gold, 30 Glory
* Rank 5: 50 Souls, 800 Gold, 20 Glory
* Rank 6: 40 Souls, 700 Gold, 10 Glory
* Rank 7: 35 Souls, 600 Gold, 5 Glory
* Rank 8: 30 Souls, 500 Gold
* Rank 9: 25 Souls, 400 Gold
* Rank 10: 20 Souls, 300 Gold
* Rank 11: 16 Souls, 200 Gold
* Rank 12: 12 Souls, 100 Gold
* Rank 13: 8 Souls, 50 Gold
* Rank 14: 4 Souls, 10 Gold
* Rank 15: 1 Gold
Please note this Event only applies to Steam, iOS and Android versions of the game.

0 Comments
ON "

For Mercy's Sake

"
RECENT TWEETS
"Auriao is really too cute for words, so make sure to rescue one over the next 24 hours on Nintendo Switch! https://t.co/tY1eKe5mRH"
"This aint Zelda, but we are all about shiny things in jars. Make sure to rescue the Bright Beetle over the next 24… https://t.co/X8a1PQiK4b"