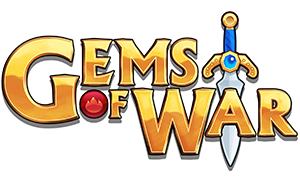 Gems of War Switch – Coming Soon

Switch Version Coming Soon
You asked for it! (Often, everywhere and relentlessly, might we add…) So here it is! Gems of War will soon be available on Nintendo Switch! Gems of War will hit the Switch with a wealth of content for players to unlock and explore as they travel through the world of Krystara and delve its mysterious Underworld. There are quests to embark on, kingdoms to conquer, and armies to build! Each week will bring new troops and events for players to enjoy, with even more events and content coming in the future. CEO and Creative Lead, Steve Fawkner, has been eager and excited to bring the game to a new set of adventures saying, "Gems of War has been a perfect extension to the hybrid puzzle RPG gameplay that is signature to the Puzzle Quest franchise, and I know fans (old and new) are going to love playing it on the Switch. Everything we've seen in the last four years tells us that people love to smash some enemies on the go, and also relax with some epic puzzle sessions at home, making the Nintendo Switch the perfect platform for Gems of War." The versatility of the Switch provides the perfect way to explore Krystara, whether at home or on the go. Switch (get it?) between the two at will and do your best to rally armies, collect troops and cast powerful spells! To new adventurers, welcome! To seasoned adventurers, welcome back! We can't wait to see you forge alliances, delve for treasure, quest with an array of colorful characters and join a guild of like-minded adventurers on the Nintendo Switch! We can't wait to see you on the Switch soon! Stay tuned for more exciting news and updates!

0 Comments
ON "

Gems of War Switch – Coming Soon

"
RECENT TWEETS
"The All-Seeing Eye needs your aid! Make sure to delve this Faction over the next 24 hours on Nintendo Switch. https://t.co/a0YPsrX0m3"
"Fang Moor needs your aid! Make sure to Delve this Faction over the next 24 hours. https://t.co/cDtzaJtejB"
"AND WE ARE LIVE! Make sure to join salty on stream for codes, spoilers, news and her very own fight club! Find us h… https://t.co/cIQoFjYGgv"
"Our weekly Gems of War stream is back in an hour! Make sure to join Salty as she releases codes, challenges viewers… https://t.co/veLC5sxVYB"
"Our stream is back tomorrow, adventurers! Join Salty as she answers questions, builds teams, challenges players, gi… https://t.co/5qSbYlKD5M"