Let it Snow
If you have been waiting for an excuse to open a bunch of keys, you only have a few short hours to try and grab the Autumnal Imp before he vanishes, making way for the Winter Imp!
New Troop: Winter Imp
The seasons are changing again! By Imperial Decree, we must impart some impressive and impassioned news of a very important update that may impact (but hopefully not impair) the way you play Gems of War.
Now, we know you are all impatient, so lest we impolitely impede your enjoyment of the game, allow us to introduce the Imponderable… the Impregnable… Winter Imp.
We hope you are impressed!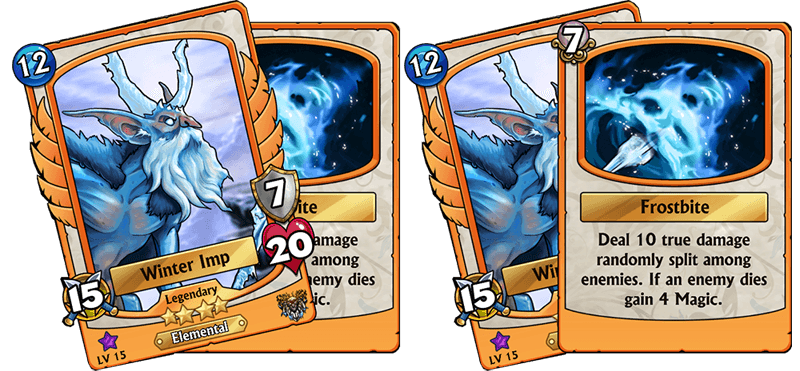 As per usual, the Autumnal Imp has left chests to make way for the Winter Imp.
Note that the Winter Imp is only available on PC and Mobile currently!
PVP Rewards Reminder
With the PVP reset comes payouts in Souls for your efforts on the battlefield against other players. Remember, you'll have until the next event to climb as high as you can and earn yourself some souls. Here's what you can earn at each rank:
* Rank 1: 300 Souls, 2000 Gold, 100 Glory, 3 Iron Keys
* Rank 2: 150 Souls, 1500 Gold, 50 Glory
* Rank 3: 80 Souls, 1000 Gold, 40 Glory
* Rank 4: 60 Souls, 900 Gold, 30 Glory
* Rank 5: 50 Souls, 800 Gold, 20 Glory
* Rank 6: 40 Souls, 700 Gold, 10 Glory
* Rank 7: 35 Souls, 600 Gold, 5 Glory
* Rank 8: 30 Souls, 500 Gold
* Rank 9: 25 Souls, 400 Gold
* Rank 10: 20 Souls, 300 Gold
* Rank 11: 16 Souls, 200 Gold
* Rank 12: 12 Souls, 100 Gold
* Rank 13: 8 Souls, 50 Gold
* Rank 14: 4 Souls, 10 Gold
* Rank 15: 1 Gold