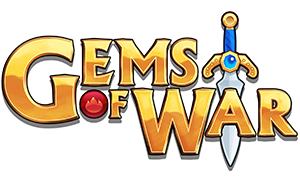 Patch 1.0.6 Arrives!

At long last, Gems of War 1.0.6 has arrived on Steam, the App Store, and now Google Play! We know it's been a long wait, so thank you for your patience as we get this one across the finish line. Along with Gems of War now being available to Android users, it's also in multiple languages. Speak French, Italian, German or Spanish? You can now play Gems of War in your native tongue! Or if you know any of these as a second language, impress your friends by switching the game's language and translating everything. Trust us, everyone will think you're awesome if you do this at parties!
Anyhow, here's everything new in this update:
New Feature: Treasure Hunting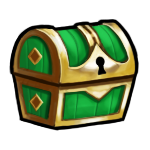 Our new Treasure Hunting game is immediately unlocked as part of this update, and can be found in Zhul'Kari. You'll need to track down some treasure maps first which can be gotten from cascades and guild tasks. They'll also be available in the store starting next week. Once you have them, you'll be able to start hunting for treasures and start compounding them to make more valuable loot. Get cracking!
New Kingdom: Maugrim Woods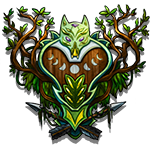 The clouds have cleared and Maugrim woods is unlocked! The Wargare are rioting and a young crimson cloaked woman is on a quest for vengeance. Travel through the dense growth of Maugrim Woods and find out what's causing the disturbance.
New Troops: Maugrim Wood Forces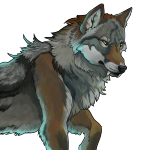 Along with unlocking Maugrim Woods, the inhabitants will stand alongside you in battle. Explore exciting tactics with new spells and a new status effect, Hunter's Mark, delivering double skull match damage to enemies.
New Feature: Troop Types

A new dynamic comes to Gems of War with Troop Types and Bonuses. Initially you'll be seeing the Dragon, Daemon, Undead, Elemental, Fey, and Beast types, along with various weapons and spells dealing bonus damage to them. Get ready to rethink that team of yours!
UI Improvements

With more hardcore tactics comes a need for more information. This update introduces Detailed UI Mode which allows you to see exact stats Mana requirements, charge progress, boost ratios, and more! You can turn it on in the settings menu.
Gameplay Changes

We've received a slew of feedback since we launched 1.0.5, and we've implemented a bunch of gameplay changes in response to what you have been saying.
What's changed?
*We've had to roll this change back as it's had some unexpected consequences. Exploding Gems continue to work as they did in 1.0.5 now. Exploded Gems will now only give 70% of their Mana Charge to troops rather than 100%. This should take away the mass charging and turn chaining that we were seeing with 100%.
*Status Effects now wear off after a maximum of 10 turns, with an ever increasing chance to wear off the longer it's been applied.
*We've done some behind the scenes magic that will reduce the chance of your enemies getting crazy lucky with gem cascades. Don't feel your tank is useless now, as a lot of damage can still come your way, but we feel the change will reduce that feeling of sudden punishment.
*Disenchant Thresholds have been introduced! This allows you to set an amount per troop that you'd like to keep even when using the 'Disenchant All Extra Copies' function. Want to get rid of all your Peasants but still run a team of four Brian the Luckys? Of course you do, and now you can! .
New Packs: Heroic and Kingdom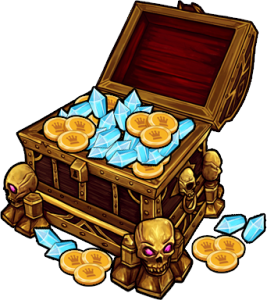 After the positive reception to the Starter Pack, we'll be adding two more as part of this update! Once you hit level 20, you'll be able to unlock the 'Heroic Pack', which among other things includes a Prismatic weapon for your hero. Up from there at level 50 is the Kingdom Pack, which in response to some requests from players, will allow you to get Legendary cards in theme with the weeks event. Both packs include a lot of other stuff, so check them out when they go live!
Bug Fixes!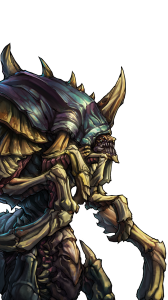 A new update means new bug fixes!
Some of the bigger stuff we've resolved this update includes…
*Resolved an issue where massive skull match damage could ripple through the entire team unintentionally, killing multiple enemies.
*Resolved an issue where a player could get multiple extra turns from troops that already gave an extra turn.
*Attack buffs will now cleanse entangle, allowing troops to actually make use of their attack buff, instead of flailing helplessly while the rest of the team points and laughs.
*Resolved an issue where spell icons might not display if a troop is attacking with skull damage and completing a Mana charge up at the same time.
143 Comments
ON "

Patch 1.0.6 Arrives!

"
RECENT TWEETS
"A new pet has been discovered in Krystara! You have 24 hours to capture this adorable critter, get to it! https://t.co/ByLmQ1GkWS"
"And we are live! Join Salty as she previews Viper and releases some juicy redeem codes on our Twitch channel here:… https://t.co/QfX6hdXdvV"
"Hello adventurers, this week on stream Salty will be previewing our upcoming legendary, Viper! She also has some re… https://t.co/85CMNDRMAD"