Patch 1.0.7 Preview Part 2
Not long to go now, as our next preview focuses on Team Bonuses, as well as changes to the way Heroes & Kingdoms work. Read on to learn more!
Team Bonuses
Wow! Where to start? We've given the system quite an overhaul, in an attempt to make it easier and more intuitive to understand, while making it less work to switch things around.
First up, we've switched mana bonuses from the Home Kingdom to the Banner. We noticed that players would frequently switch home kingdoms when selecting new teams. That's a pain. Now you can simply associate a banner with each team to give it the correct mana bonus. Also note that all banners have been recolored to clearly show their mana bonus.
What happened to the old banner bonuses? They're still there, but you don't need a banner to activate them any more! Now if you can get 2 or more troops from a kingdom together under ANY banner then all the troops in that team will get a bonus. For example, get 2 Adana troops in your team, and you will activate the "Lord of Gears" bonus to get +2 Armor for EVERYBODY. Get 3 or 4 troops from Adana and that bonus goes up!
We added one final piece to the Team Bonus system. You can ALSO gain bonuses by grouping 3 or 4 troops of matching Troop Type (all troops have a troop type in 1.0.7), or by grouping 4 troops with a matching color. And all of these bonuses are displayed clearly in our new bonuses menu, shown below.
Oh, and yes, it IS possible to get 4 team bonuses on your group that way!
Hero Menu & Difficulty
The Hero Menu has also received a full makeover. It's now much clearer to see your Spell Masteries, and some scrolling text will show you exactly how they are composed, with Guild Bonuses, Kingdom Bonuses, etc…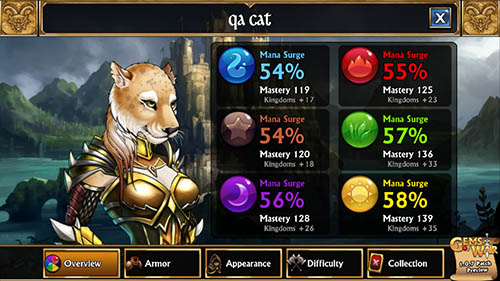 But by far the biggest change here is the addition of a DIFFICULTY setting. If you preferred the older more-challenging AI, you can now disable the combo-breaker that made the game easier, and be rewarded with 10-25% extra Gold, XP & Souls for combat. If you're feeling particularly skilled or daring, you can even adjust the stats of enemies to be higher, for even MORE rewards (and yes that applies to Arena Runs & PvP too).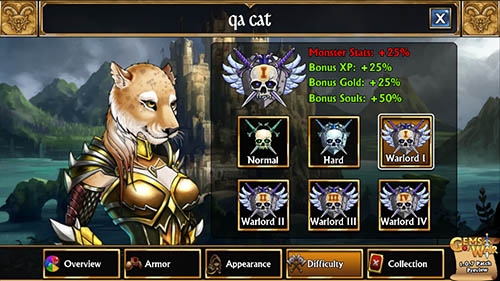 The COLLECTION tab you see there is reserved for the 1.0.8 update. We'll have more info about that in the coming weeks.
Kingdoms
While we were overhauling the bonuses for teams ,we took the opportunity to streamline the whole system of Kingdom Levels and Bonuses too. And before you read any further, DON'T PANIC! Your kingdoms will not lose any levels when you upgrade to 1.0.7. – everything carries over just as it was before.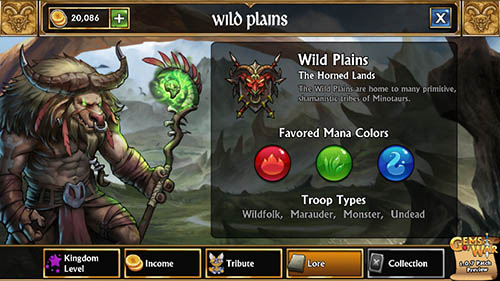 First up, the old Kingdom Leveling system was really confusing for many players. Leveling your troops to gain kingdom levels didn't make a lot of sense, it restricted us to 8 troops per kingdom, and it meant that some Kingdoms still couldn't get to level 10. Kingdoms will now level simply by paying gold, which is a whole lot easier to understand for everybody. It's not cheap to upgrade your Kingdom to level 10, but we think you'll like the new benefits as you read on! AND remember – as we mentioned above – your existing kingdom levels will NOT be lost when you upgrade to 1.0.7.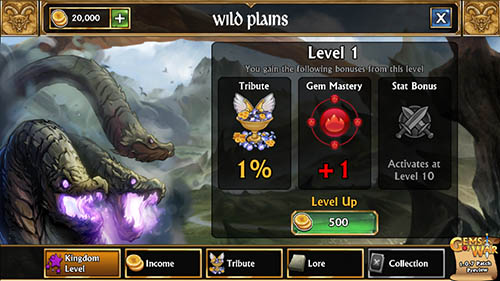 It wasn't just the leveling of kingdoms that was confusing though, the bonuses that accumulated from it caused a lot of headaches for many folks, because they only applied when fighting in the Kingdom you'd leveled. That wasn't always clear, especially in PvP/Invade matches. So now when you level a Kingdom, you get permanent GLOBAL bonuses, to all troops and all battles everywhere. From levels 1-9 that takes the form of Mastery Bonuses for all your battles. And at level 10 you will activate a Global Skill Bonus for all your troops, specific to each kingdom (see Whitehelm below giving +1 Armor). Tribute bonuses apply exactly like before.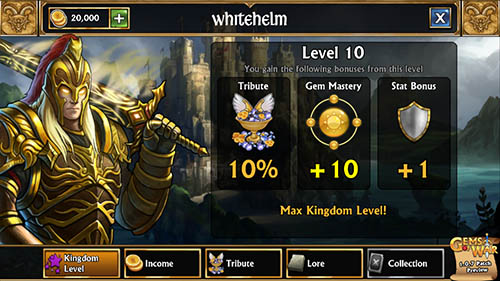 Finally, a quick word about tributes… Having moved the mana bonus from your Home Kingdom, we have given Home Kingdoms one special final treat. They now have the ability to send Double Tribute when they proc during gold collection. We've also re-jigged all the tributes so that every kingdom gives a slightly different mix of Gold, Souls, and Glory! Have fun finding your new home!