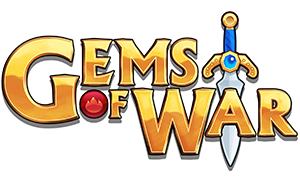 Green Energy

It's 100% Natural.
New Troop: Archdruid

The Druidic caste of the Forest of Thorns are the highest caste that a common Wood Elf can ascend to, with the Archdruids being the leaders of that caste.
From their numbers, one is chosen only twice every century to merge with the spirit of the forest and become a Green Seer.
Troop Type Changes
The following troops have had changes to their troop types.
* Dryad changed from Fey to Fey/ Elemental
* Treant changed from Fey to Fey/ Elemental
* Gloom Leaf changed from Fey to Fey/ Elemental
* Swamplash changed from Monster to Elemental/ Monster
* Rowanne changed from Fey to Fey/ Elemental
Please note this Event only applies to Steam, iOS and Android versions of the game.

2 Comments
ON "

Green Energy

"
RECENT TWEETS
"It's weekly mini competition time! If you could buy Gems of War merch, what would it be and why? Prizes for good answers as always. :)"
"Hello players! We go live on #Twitch in 1 hour with Salty (@ellalowgren) and Steve (@sfawkner)! Please join us here… https://t.co/YHQCCCjiGZ"
"It's time for the second round of our Design-a-Troop competition! Our troop will be a Mech/Merfolk from Blackhawk.… https://t.co/12frPFr2jA"
"Please refrain from making dirty jokes, we believe in your self-control. Meet King Silenus this week on console!… https://t.co/9Kugow5iLY"
"Pray your courage doesn't desert you this week as you journey to the past on PC/Mobile! https://t.co/bO0A71waoR https://t.co/T0648srTYc"